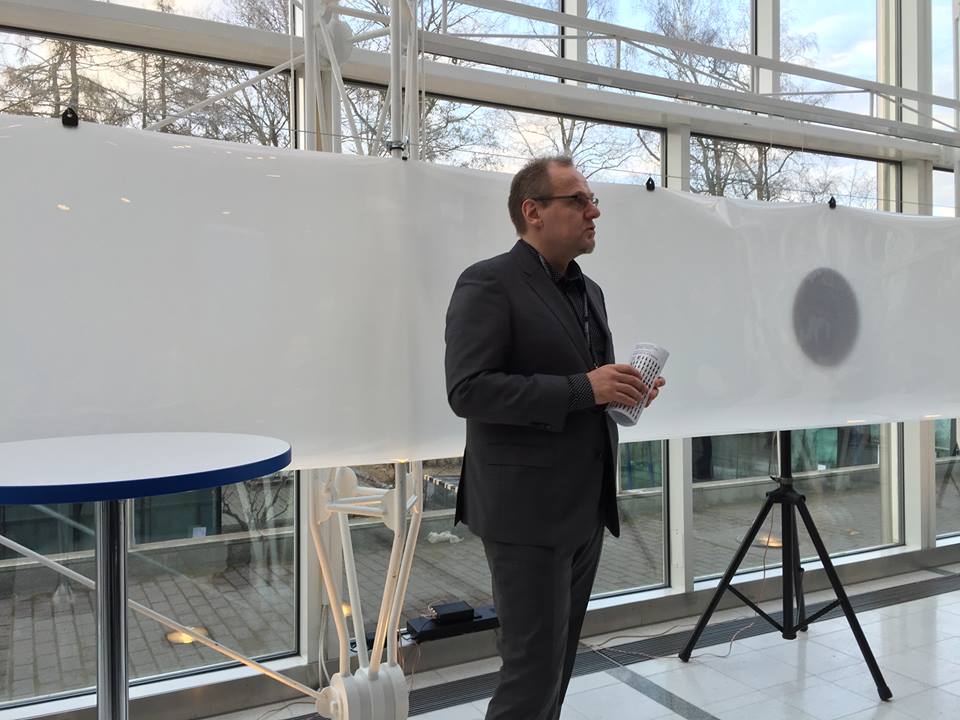 ---
PETRI KULJUNTAUSTA
Petri Kuljuntausta's keen interest on sound and its different dimensions has lead him to work in the several fields of art and science. He started as a composer and guitarist who played several instruments and created compositions with multitrack technology. When he moved to compose pieces from environmental sounds in the early-1990's  it was natural continuation to his development as a composer. At the same time Sound Art movement was becoming better known and Kuljuntausta started to work with sound in galleries and museums.
Petri Kuljuntausta has made sound installations and audiovisual installations in museums, galleries and concert halls. His works are often based on research of sound frequencies and how the vibration creates movement in the selected material (water, sand, light, plastic grains, huge sheet…). In his recent installations Kuljuntausta has used laser lights, video projection and mirrors. Kuljuntausta has realized underwater sound installations from underwater recordings and created site-specific sound works in public and unique spaces. In 2005 he won The Finnish State Prize for Art, from the Finnish government as a distinguished national artist. In 2011 he opened Akusmata, the first sound art gallery in Finland.
In close collaboration with natural scientists Petri Kuljuntausta has composed music using whale calls, underwater recordings and the sounds of the northern lights. Environmental sounds, live-electronics, improvisation and collaborations with media artists have influenced him as a composer. Petri Kuljuntausta has also composed music for experimental films, visual art and dance projects. His works have been performed in many European countries, Australia, India, Mexico and the USA, and he has made over 100 recordings for various labels in Australia, Europe, India, Colombia and the USA.
In many ways Kuljuntausta's art is firmly based on research, collaborations with scientists and good knowledge of tradition. Kuljuntausta often transfer scientific phenomenas to the field of art. He work with the material until he found new sides from it and could finally offer surprising outcomes in the context of art. Kuljuntausta is the author of two books on the history of Finnish electronic music, On/Off (2002) and First Wave (2008), and in 2006 he published a book entitled Äänen eXtreme (Transl. eXtreme Sound), on his own approach to music.
In the 1990s, Petri Kuljuntausta Project! attracted listeners and

received exceptionally positive reception

in the field of jazz. The group presented music composed by Petri Kuljuntausta, combining elements of the electronic jazz with skilled improvisations and the electronic dimensions created by synthesizers and sequencers. Kuljuntausta gave the band a personal sound and his compositions were characterized by difficult time signatures and complicated structures that the band also performed in concerts in sovereignty. The virtuosity of Kuljuntausta went hand in hand with the managed nuances. The group released the album 'Visions and Play' in 1992, which became a critical success story.
In the 2010s, Kuljuntausta was again playing as a guitarist. In solo concerts, he plays guitar alongside electronics, acoustic sounds and synthetic arpeggiator. In group performances he collaborates with contemporary musicians, improvisers and artists.
Petri Kuljuntausta also works with underwater soundscapes. In his underwater sound installations the source sounds are recorded from underwater environments by hydrophones. The sounds of installation are played back through underwater speakers and the audience experience the works by swimming and diving in water. As the ear doesn't work in water, the listening experience is tactical and is based on bone conduction. In the water concerts Kuljuntausta plays electric guitar and process the sounds of fishes and other sea creatures  live with his electronic instruments.